Industrial Gas Springs – Pull Type
GZ-15-100
Very low progression rate
Valve Technology
Traction force max. 34 lbs
Stroke 3.94 inch
The solution to a lack of space: If standard push type gas springs cannot be used due to a lack of space, ACE's industrial pull type gas springs are the solution. They work in the opposite way of standard push type gas springs. The piston rod is retracted when the cylinder is unloaded. The gas pressure in the cylinder draws the piston rod in.

ACE pull type gas springs offer the maximum service life thanks to the solid chrome-plated piston rod and an integrated sliding bearing. The maintenance-free and ready-to-install products are available in body diameters of 0.59"" to 1.57"" (15 to 40 mm) as well as forces from 8.99 lbs to 1,124 lbs. (40 to 5,000 N) and are available from stock with valve and a large selection of accessories. The traction force can be fine-tuned using the adjustment valve.
CAD Drawings
Product-Downloads
No downloads available for this product
GZ-15-100
Valve Technology
Dimensions

| | |
| --- | --- |
| Stroke | 3.94 inch |
| L retracted | 6.57 inch |
Technical Data
Traction force max. 34 lbs

Traction force 11 lbs to 34 lbs (extended up to 41 lbs)

Piston rod diameter Ø 0.16 in

Progression Approx. 12 % to 22 %

Lifetime Approx. 6,561 ft

Operating temperature range -4 °F to +176 °F

Material Outer body, End fittings: Zinc plated steel; Piston rod: Stainless steel (1.4301/1.4305, AISI 304/303)

Operating fluid Nitrogen gas

Mounting With piston rod upwards.

End position damping length Without damping. For end position damping use damping material (e.g. TUBUS or SLAB).

Positive stop External positive stop at the end of stroke provided by the customer.

End fittings

They are interchangeable and if necessary must be positively secured by the customer to prevent unscrewing.

On request

Special oils and other special options. Alternative accessories. Traction gas springs with end position damping also available on request.
General information
Application Examples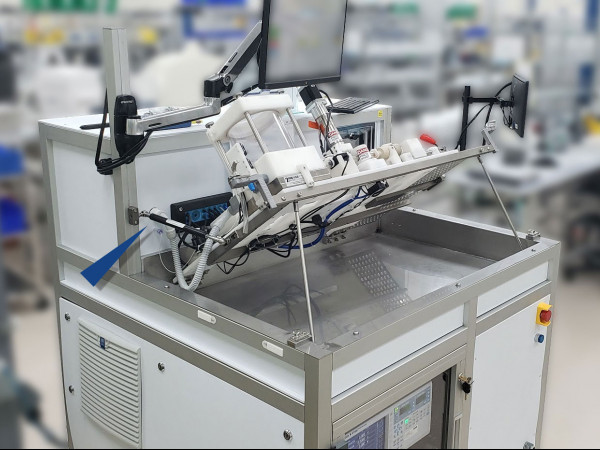 Industrial Gas Springs – Pull Type - GZ-15 to GZ-40
Averna needed to create an automated control system with specific and precise properties to speed up medical pump testing. The testing unit also needed a functionality that would allow it to be elevated for sterilization and cleaning beneath the...
Application Areas
Hoods
Shutters
Machine housing
Conveyor systems
Control boxes
Furniture industry
Shipbuilding
Assembly stations
Vehicle technology
Folding elements
Gas traction springs from ACE are used in industrial applications, automation and machine building, especially in test equipment and in medical technology as well as in the electronics and furniture industries.