Hydraulic Feed Controls
VC2555F
For precision adjustment of feed rates
Adjustable
Compression force max. 787 lbs
Stroke 2.16 inch
Precise adjustment for any type of application: Hydraulic feed controls of the product family VC are ideally suited for the precise tuning of constant feed rates. The thread of the outer body of this closed hydraulic element allows simple assembly. Smooth outer bodies can also be supplied.

As the hydraulic oil is forced out through the throttle opening, a constant feed rate is achieved on the stroke. In the models up to 2.17"" (55 mm) stroke, the tried and tested rolling diaphragm, known from ACE shock absorbers, serves as a dynamic seal, as volume compensation of the piston rod and as a reset element.
CAD Drawings
Product-Downloads
VC2555F
Adjustable
Dimensions

| | |
| --- | --- |
| Stroke | 2.16 inch |
| A | 8.23 inch |
| B | 5.19 inch |
Technical Data
Compression force min. 7.87 lbs

Compression force max. 787 lbs

Return Force min. 1.12 lbs

Return Force max. 8.99 lbs

Return Time 1,2 s

Side Load Angle max. 2 °

Compression force 6.74 lbs to 787 lbs lbs

Piston rod diameter Ø 0.31 in

Impact velocity range At speeds of 0.98 ft/sec the maximum allowed energy is approx. 8.85 in-lbs for units up to 2.16 in stroke and approx. 17.70 in-lbs for units 2.95 in to 4.92 in stroke. Where higher energies occur use a shock absorber for the initial impact. Avoid high impact velocities.

Adjustment Infinitely adjustable

Positive stop External positive stops 0.04 in to 0.06 in before the end of stroke provided by the customer.

Damping medium Oil, temperature stable

Material Outer body: Black anodized aluminium; Piston rod: Hard chrome plated steel; Accessories: Steel with black oxide finish or nitride hardened

Mounting In any position

Operating temperature range 32 °F to 140 °F

Note

Nylon button can be fitted onto piston rod. Unit may be mounted in any position.

Safety information

Do not rotate piston rod, if excessive rotation force is applied rolling seal may rupture. External materials in the surrounding area can attack the seal components and lead to a shorter service life. Please contact ACE for appropriate solution suggestions.

On request

Special oil and other special options available on request.
General information
Application Examples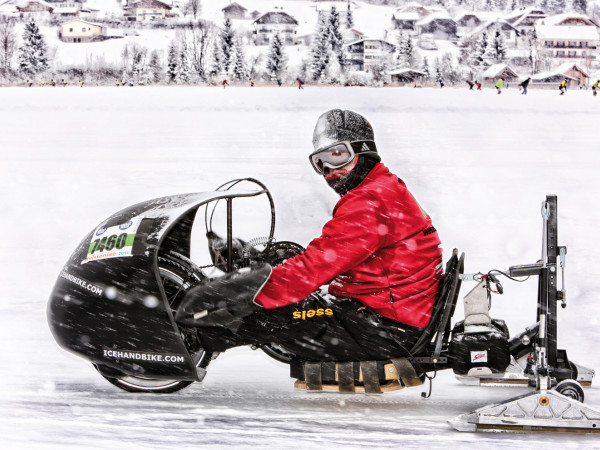 Hydraulic Feed Controls - VC25
Usual handbike sport sledges have problems in the curves even on wet roads. In order to be able to make speed on ice not only on the straights, a Dutchman further developed his special construction for this special vehicle. With standard gas...
Application Areas
Handling modules
Linear slides
Automatic machinery
Conveyor equipment
Absorption control
Precision hydraulic feed controls of the product family VC are used in automotive and industrial applications as well as in mechanical engineering and the electronics industry.