MC6450M-0
High energy absorption and robust design
Self-Compensating
Energy capacity 16,551 in-lbs/cycle
Stroke 1.91 inch
The latest damper technology: The combination of the latest sealing technology, annealed guide bearing and integrated positive stop make these self-compensating shock absorbers from ACE'S MAGNUM range so successful. After all, users benefit from the longer service life of the products, even in the most difficult environments. A continuous outer thread and extensive accessories make their contribution to the success story of the MC33 to MC64.


High energy absorption in a compact design and a wide damping range lead to huge advantages in practice. Alongside generally more compact designs, these small yet very powerful absorbers enable full use of the machine's performance. Self-compensating shock absorbers react to changing energy conditions, without adjustment.
Learn More ...
CAD Drawings
Product-Downloads
MC6450M-0
Self-Compensating
Dimensions
| | |
| --- | --- |
| Stroke | 1.91 inch |
| A max. | 8.85 inch |
| B max. | 1.91 inch |
| L1 max. | 4.4 inch |
| L2 | 5.5 inch |
| M | 2-1/2-12 UNF inch |
| d1 | 2.37 inch |
| d2 | 1.90 inch |
Technical Data
Energy capacity 16,551 in-lbs/cycle

Energy capacity 1,300,000 in-lbs/h

Energy capacity with oil recirculation 3,400,000 in-lbs/h

Energy capacity with air/oil tank 2,600,000 in-lbs/h

Effective weight min. 308 lbs

Effective weight max. 1,190 lbs

Return Force max. 34.9 lbs

Return Force min. 20.1 lbs

Return Time 0.12 s

Side Load Angle max. 4 °

Impact velocity range 0.5 ft/sec to 16.5 ft/sec. Other speeds on request.

Operating temperature range 10 °F to 150 °F. Other temperatures on request.

Mounting In any position

Positive stop Integrated

Damping medium Automatic Transmission Fluid (ATF)

Note

A noise reduction of 3 dB to 7 dB is possible when using the special impact button (PP). For emergency use only applications and for continous use (with additional cooling) it is sometimes possible to exceed the published max. capacity ratings. In this case, please consult ACE.

Safety information

External materials in the surrounding area can attack the seal components and lead to a shorter service life. Please contact ACE for appropriate solution suggestions. Do not paint the shock absorbers due to heat emission.

On request

Special oils, nickel-plated, increased corrosion protection, mounting inside air cylinders or other special options are available on request.
General information
Application Examples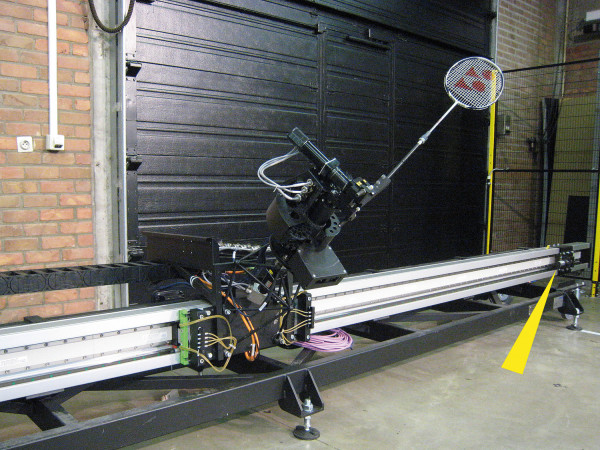 MC33-64 - Jada the badminton robot
Serving a similar purpose, several ACE dampers are installed in Jada, the triple-axis, free-moving badminton robot. In order for the badminton robot to be capable of playing, it must be able to change direction in the shortest time possible. Jada is designed therefore to brake at a maximum of 30 m/s². For this task, linear modules are limited by the use of industrial shock absorbers of the ...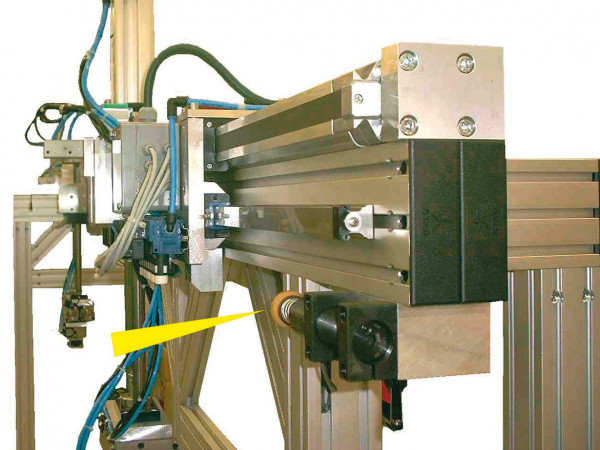 MC33-64 - Portal for machine loading and increase productivity
ACE industrial shock absorbers optimize portal for machine loading and increase productivity. This device driven by piston rodless pneumatic cylinders, in which two gripper slides are moving independently of each other at speeds of 6.56 ft/sec to 8.20 ft/sec, is equipped with industrial shock absorbers as brake systems. Their function is to stop a mass of 55 lbs up to 540 times per hour. The ...
Application Areas
Linear slides
Swivel units
Turntables
Portal systems
machines and plants
Tool machines
Machining centers
Z-axes
Impact panels
Handling modules
These self-compensating industrial shock absorbers are used in all areas of industrial automation and machine engineering, especially in automation and for gantries.